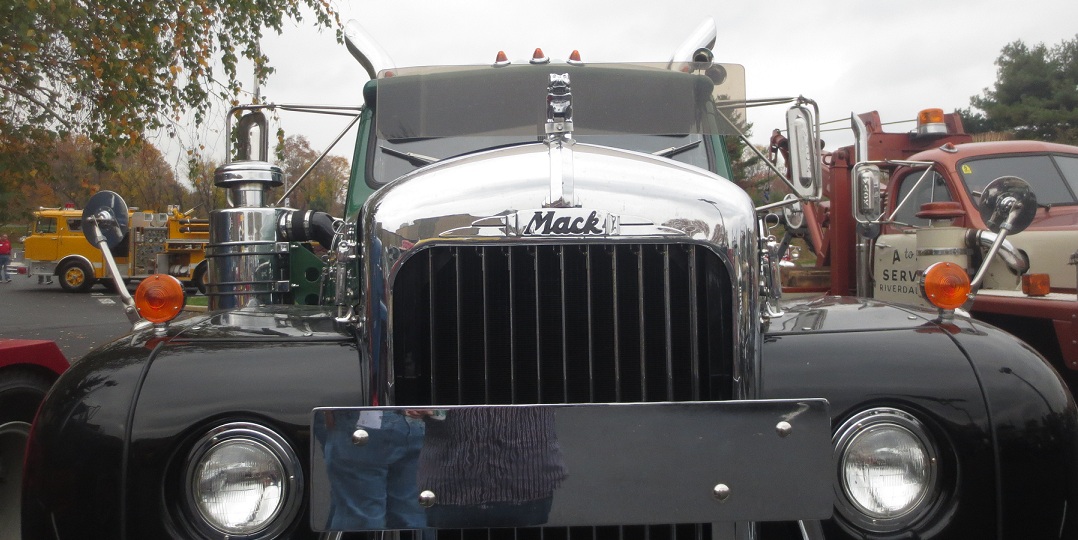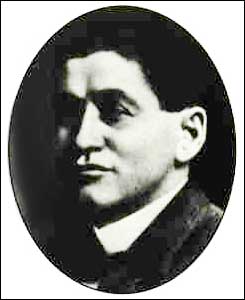 Mack Museum and the History of the Mack
Jack Mack grew up in Scranton, Pennsylvania, on his parent's farm. However, Jack wanted more out of life than to become a farmer like his father. To accomplish this goal, Jack ran away from home when he was only 14 years old.
Shortly after leaving home, Jack found a job with the Teamsters and traveled all around the world. Eventually, Jack found himself unemployed, and in Brooklyn.
In 1890
Jack Mack took a job at Fallesen & Berry, a wagon and carriage company, in Brooklyn, New York, he had no idea that he was well on his way to creating one of the most successful and well-known companies in American history.
Three years later, in 1893, Jack, along with his brother Gus, purchased Fallesen & Berry, which they renamed the Mack Brothers Company. The brothers did not change the name of the company to
Mack Trucks
until 1922.
Another brother, William Mack, joined his brothers in their new endeavor shortly after. However, even though the brothers were excellent at what they did, the economy was terrible, and their business suffered as a result. In order to adapt to the changing needs of Americans and the downward economy, the brothers begin to reinvent their business. The first change they made was to concentrate on creating steam and electric motor cars rather than trying to save their struggling carriage business.
---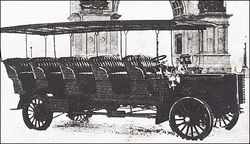 20 Passenger Bus 1904
The first Mack bus was equipped with a 4-cylinder engine, a 3-speed gearbox, and a cone-style clutch arrangement. This configuration created a bus that ran for more than 25 years and covered more than one million miles during this time. Years later, the Mack brothers took this original configuration and created the Mack truck that is still popular today.

Trucks created by the Mack brothers had a reputation of being tenacious, and were often compared to bulldogs who had many of the same qualities. For this reason, the bulldog was adopted as the Mack mascot, in 1922. Eventually, a bulldog ornament found its way on to the hood of every Mack made. This reminded Mack drivers, and those they shared the road with, just how tough Mack trucks are.



---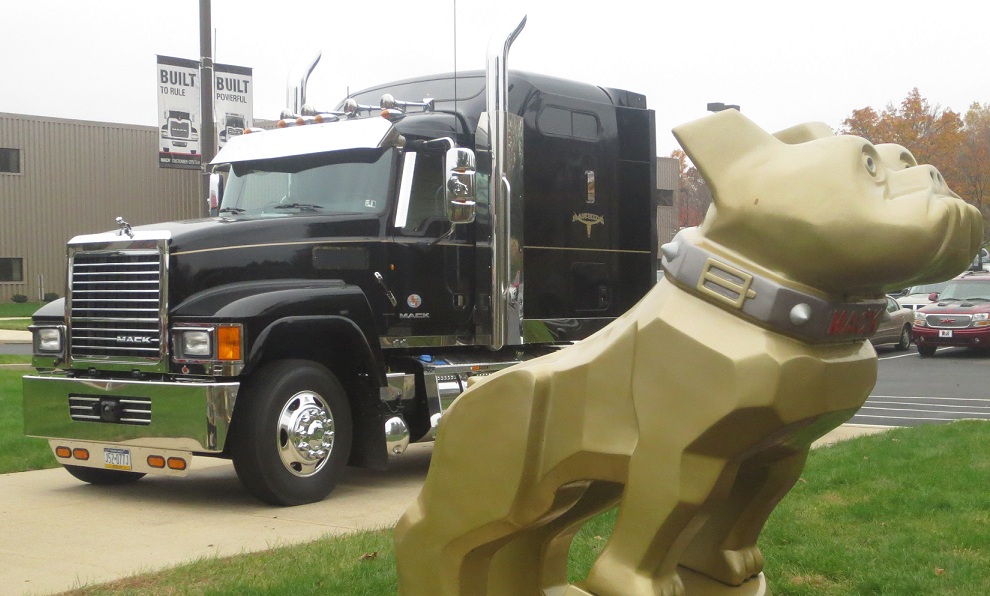 The Mack brothers business grew rapidly after the Mack bus was introduced. In fact, the business grew so quickly that by 1905, the brothers moved their factory home to Allentown, Pennsylvania. Once home, the remaining Mack brothers, Charles and Joseph, joined their brothers in the family business.


Unfortunately, Jack Mack and his brothers didn't see eye to eye with the new management and eventually the brothers left the company. However, the Mack brothers departure from the company did not slow down the Mack Truck brand, which is an American world-class truck leader.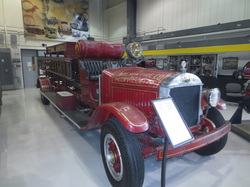 Mack Museum
Since history has proven that the Mack truck is as relevant to American culture as baseball and hot dogs, Mack trucks have their very own museum. The museum, located in Allentown, Pennsylvania, contains the largest collection of Mack trucks in America.

Mack models that grace the floors of the Mack Museum include models ranging from 1907 to 1973. In addition to models, the museum also features Mack artifacts and documentation for nearly every Mack model ever created.



---
Mack Museum Hours of Operation and Address Location
Whether a Mack enthusiast, or a tourist looking for an entertaining afternoon, the Mack Truck Museum is full of American nostalgia that will appeal to everyone. Some of the best known Mack truck models featured in the museum include: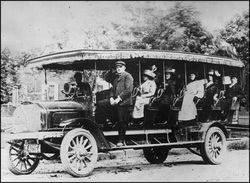 A Mack Bus
An original Mack Bus created by the Mack brothers. This gas-powered, open-air, antique model graces the showroom floor at the Mack Truck museum, despite its long running history that extend over two decades.
1911 Mack Jr.
The Mack Jr. is most famous because it is the last truck designed by the brothers before they sold the company. This truck was used mostly to haul dry goods and shared the roads with horse drawn carriages.
Mack Museum Hours of Operation
To see all the amazing creations of the Mack brothers, and the way the Mack truck has evolved over the last one hundred years, visit the
Mack Museum
in Allentown, Pennsylvania. The museum curator, Don Schumaker, is a Mack Truck enthusiast who knows virtually everything there is to know about Mack trucks.
To check out all the history the museum encompasses for yourself, the museum is open every Monday, Wednesday and Friday from 10 to 4. Private tours are available for large groups, however, guided tours begin every hour on the hour from 10 to 3.
For GPS driving direction

use: 11 Grammes Rd., Allentown, PA 18103
---
Mack Museum: Engines and Power Train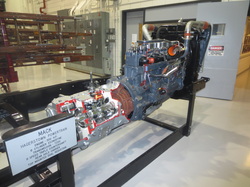 In 1938, Mack became the first truck company to produce its own engines.Three quarters of a century later, they're the first American company to combine both truck and powertrain manufacture, meaning that Mack trucks are designed for all of their components to work together in perfect harmony.

For seven decades, Mack engines have gone just as far in cementing the company's reputation as their trucks have. It makes sense. After all, the world's best trucks deserve nothing but the best engines.

Each of Mack's heavy truck series has been associated with certain types of engines. The early 1950's B Model Macks relied on Thermodyne engines, including the 707 inline 6 and a 255hp V8.

When the R Model was rolled out as the B Model's replacement, it initially used the B Model's Thermodyne, but these would be supplanted in later models by Maxidyne and Econodyne engines.

The Maxidyne, developed by Mack VP Walter May, was introduced for the 1968 model year, and would, for the first time, allow a Class 8 truck to be equipped with a five speed Maxitorque transmission, rather than the usual ten (or more) speed transmission.

Mack's E6 350 and E7 400 rival anything produced by Cat, Cummins, or Detroit Diesel, but Mack didn't stop there. The Superliner Mack would have options for a six-cylinder EA7 or an eight-cylinder EA9.

The aptly-named Titan Mack would require a suitably titanic engine, and would feature either an E9, or the MP10, the largest ever 6-cylinder engine from Mack. The latter came in 515, 565, and 605 horsepower models.

---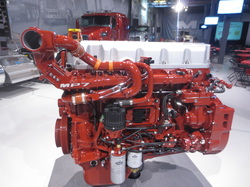 The current Mack engine family features three main models. The Mack MP-7 engine produces 325 to 405 horsepower. Its smaller size and lighter weight belies an engine that packs a serious punch. It features not only in the Mack Pinnacle, but also in trucks used as the basis for tippers and haulers. The MP-8, meantime, displaces 13 liters and delivers 415 to 485 horsepower, with a torque rating of 1,540 to 1,700 foot-pounds.

Finally, there's the 16-liter, 515-605hp MP-10 engine. This engine, which features in the Mack Titan, is engineered to pull heavy loads from a dead stop, and to haul heavy equipment at highway speeds. It's suited not only to construction, but also for heavy transport, and delivers a blend of power and fuel efficiency. In fact, each of these engines meets or exceeds the 2007 emissions requirements, and each improves on its predecessors' fuel economy.

Quite a bit has changed since 1938. Mack trucks have been no exception, and the Mack engines that power them have gone through their fair share of changes as well. Mack engines are a big reason why the Mack name retains such a good reputation, and why Mack trucks are some of the most loved and respected to be found anywhere. If Macks are "Bulldog tough," a big reason for that is the Mack engine that beats at the heart of the best Mack trucks.
---
Mack Museum Trucktoberfest 2012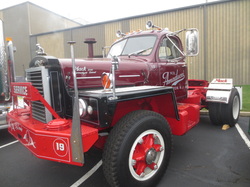 Mack and the Mack Museum recently staged Trucktoberfest 2012 at the Mack Truck Museum in Allentown, Pennsylvania. The event was co-sponsored by the American Truck Historical Society, the Antique Truck Club of America, and the Antique Fire Apparatus Club of America, and took place on the 26th and 27th of October, 2012.

This wasn't your typical Octoberfest -- probably a good thing, since a bulldog would look silly in lederhosen -- but for Mack enthusiasts, it was nothing short of a dream come true. After all, why should classic car fans have all the fun? We've all been to auto shows and seen row upon row of pristine Cadillacs, Packards, Dusenbergs, and maybe even a Crosley or two. But when it comes to the classics, trucks – and not Chevy or Ford pickups, but the big boys – seem sadly underrepresented.

The two days of Trucktoberfest featured a gathering of Mack enthusiasts and the trucks that are their pride and joy, settled in among the Mack Truck Museum's already-impressive collection. The weekend's events included not only antique trucks, but also participation events, slow vehicle races, food, and even an awards ceremony.




---
Mack Superliner Back in Black Burn Out at Mack Museum Trucktober Fest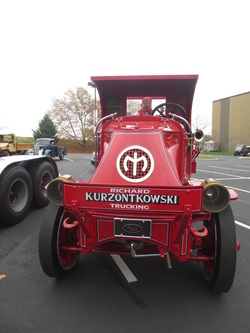 And did we mention the trucks? Macks from the early twentieth century (the now-rare AB, AC, E and Mack Jr. lines)could be found alongside B models, R models, and others of more current vintage.

Dozens of them, representing nearly anything that can go on a Mack chassis, including tandem axle tractors, dump trucks, fire trucks, buses, stake trucks, even Mack trucks towing Mack trucks.

Mack's military heritage was also on display, including APCs and other armed forces-specced vehicles. Mack powertrains also get their due, thanks to cutaway exhibits that display the "guts" of some of Mack's best-known engines and transmissions.

Pride of place is given to a testament to Mack's impact in popular culture: a mockup of a Granite Mack that featured in "Transformers: Dark of the Moon" features a display placard that also mentions a Mack's star turn in Disney/Pixar's "Cars" and "Cars 2."
---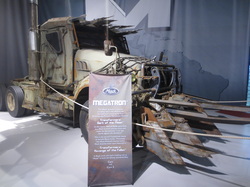 A lot has changed since Mack went into business a century ago – these days, Mack the Bulldog even has his own Facebook page. Not only that, the very landscape of America is different, and Mack Trucks contributed mightily to those changes. Trucktoberfest 2012 was a reminder to Mack Truck lovers of the company's long and storied history, but also an indicator that its best days are still ahead of it.




---