A Mack
can be seen everywhere and anywhere there's pavement, and plenty of places where there's not. There are other commercial truck brands that are American made – big names, too, like Western Star, Kenworth,
Peterbilt
, International, White and Freightliner – but they don't have the same heritage, staying power, or sentimental value that's attached to the Mack name.
This isn't just coincidence. As Mack chugs into its second century, the company has been around for half of America's history. Its bigger half, when America grew and found itself on the move. And when America needs to move something, it generally moves on a Mack chassis. Mail, timber, cars, troops, clothing… if it needs to get from point "A" to point "B," quickly, efficiently and safely, Mack's trucks – from the venerable early beginnings AC, LJ and the ever so famous B series all the way up to the more recent CL, R Model, DM Model,
CH613
the all new Titan and aka Superliner variants – have been the big trucks to make it happen.
Some of this is because of sheer power. Mack engines, like its legendary Mack E7 truck engines, deliver plenty of power right alongside whatever else you're delivering. Mack's famous tandem axle tractors can handle a huge array of trailers – lowboys, tankers, car carriers, dump trailers, tag a longs – carrying staggering loads that would stop a lesser truck dead in its tracks.
But power alone does not a legend make. The other secret component to the Mack myth is all the cool stuff that can go on a Mack heavy duty truck. Early on in the company's history, Mack built buses; the line would soon grow to include nearly anything that could be put on a cab-over or conventional chassis: garbage trucks, concrete pumpers, cranes, delivery trucks, cement mixers, roll offs, tow trucks, and tippers, to name but a few. Mack's CH trucks, with their nearly European styling, bring the Mack mystique to an urban setting for everything from moving vans to reefer trucks.

If you thought their trucks were legendary, give a minute's thought to the popularity of Mack collectibles. If you can wear it, chances are it's been made with a Mack logo, or their iconic bulldog. Shirts, belt buckles, and of course trucker hats are all sought after by collectors and everyday folks. Nor is that the limit of Mack truck memorabilia, whether you're looking for an ashtray or antique signs. Even kids have gotten in on the fun over the years, playing with Mack die cast Corgis and Matchboxes or building model kits of their favorite Mack models.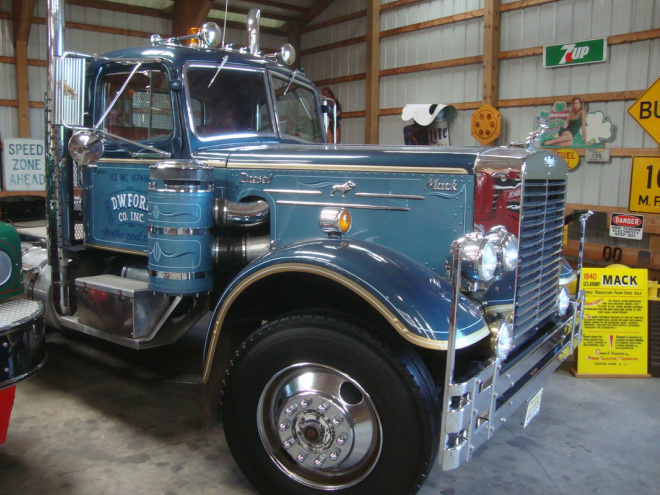 Classic Mack Truck Collection
However, the most prized possession in many collections are the classic Mack's themselves. Maybe it's because of fond memories of your first Mack B61, or maybe it's because there's something about a Mack that brings out the little boy in guys everywhere. Some aficionados keep their Mack's running by any means necessary, including bungee cord and duct tape; others rely on a combination of aftermarket Mack parts and OEM Mack parts to restore their rigs to their former glory. Go to any truck show on a summer weekend, and you're just as likely to see a vintage Mack brought back to a high gloss – right down to the proud bulldog hood ornament – as you are to see shiny Pete's, Internationals, or Ford's.

But then, you don't have to wait for a truck to age to know you've got a classic. That's why Mack, more than any other brand, holds its resale value. It's because from the company's founding at the turn of the last century, each Mack has been built to exacting standards of quality and longevity. For that reason more than any other, Mack's are often imitated, but never equaled. The Mack you buy today could be a collectable tomorrow, but it's more than capable of carrying its weight in the meantime.